Keyword: living wage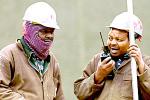 Nicolas Pons-Vignon - Suggesting that workers, meaning those in low-level occupations, are overpaid, has become commonplace in South Africa. It is one facet of a broader line of argument, according to which, workers, especially black workers have been excessively well treated in the post-apartheid dispensation. The other facet of this argument is that this is not just a problem of attitude - one of entitlement justifying laziness, for instance - but also a cause of poverty, since overpaid workers keep others out...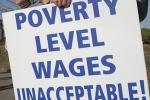 Frank Meintjies - Some workers earn nothing – they survive on tips. Some earn a daily rate that barely covers the costs of commuting to work and a square meal for the day. Then there are those who earn in the region of the median wage – about R3033 a month – but who fall prey to loan sharks and other debt collectors. For these and many other reasons, South Africa cannot but consider a single statutory minimum wage. The mechanism has the potential to help stitch together the frayed edges of...