Keyword: political violence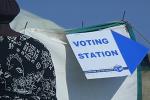 There is some reason to believe that the level of political freedom enjoyed by more affluent South Africans isn't enjoyed by people in poorer communities, argues David Bruce, an independent consultant conducting research on behalf of the Community Agency for Social Enquiry on political intimidation in the run up to South Africa's 2014 general elections. There are many poor communities "where the established system is one where a dominant party governs in that area and...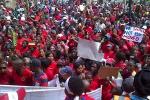 Richard Pithouse - Nkosinathi Mngomezulu was shot in the stomach on Saturday morning. He was shot at the Marikana land occupation at Stop 1, Cato Crest in Durban during an eviction. He's currently in the Intensive Care Unit of King Edward Hospital. His comrades fear that he may be attacked in the hospital. They've not been allowed to post their own guard but they're making sure that he's always surrounded by a large group during visiting hours. Mngomezulu's comrades are not paranoid. He's been threatened...