Keyword: Sampie Terreblanche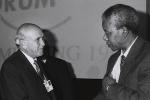 Paul Jay of The Real News Network talks to Danny Schechter, a journalist, author and documentary filmmaker who is involved in a new film called The Making and Meaning of 'Mandela: Long Walk to Freedom'. His latest book is Madiba A to Z: The Many Faces of Nelson Mandela. This interview looks back at the era of negotiations that ushered in South Africa's democracy 20 years ago and reflects on the enormous compromises that the ANC made when it came into power. According to Schechter, South...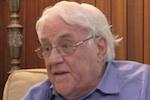 On 1 August 2013, SACSIS' Fazila Farouk spoke to renowned social commentator, author and public figure, Professor Sampie Terreblanche, who has spent many years researching and writing about South Africa's poverty and inequality. Terreblanche argues that the ANC's embrace of the neoliberal approach for economic development is the wrong model for South Africa. He argues further that the ruling party has used the public purse to facilitate an elite transition through black...