Keyword: salvador allende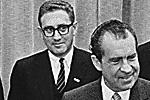 Peter Kornbluh, who spearheaded the effort to declassify more than 20,000 secret documents that revealed the role of the CIA and the White House in the Chilean coup, discusses how Nixon and Kissinger backed the Chilean military's ouster of Allende and then offered critical support as it committed atrocities to cement its newfound rule. He is interviewed by Democracy Now! Kornbluh is author of the newly updated book, "The Pinochet File: A Declassified Dossier on Atrocity and...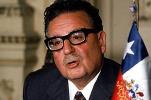 Richard Pithouse - Pablo Neruda, the great Chilean poet, was awarded the Nobel Prize for Literature in 1971 for "a poetry that with the action of an elemental force brings alive a continent's destiny and dreams". In his acceptance speech in Stockholm he cited Arthur Rimbaud, the wild teenage poetic genius of the Paris Commune of 1871: "In the dawn, armed with a burning patience, we shall enter the splendid Cities." Neruda declared that "my duties as a poet involve friendship not only...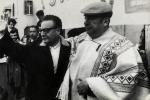 Richard Pithouse - "If we had a keen vision and feeling of all ordinary human life, it would be like hearing the grass grow and the squirrel's heart beat, and we should die of that roar which lies on the other side of silence." - George Elliot, Middlemarch, 1874 The Economist recently celebrated Margaret Thatcher for her "willingness to stand up to tyranny". For Barack Obama she was "one of the great champions of freedom and liberty". This is, plainly, what her old friend...