Keyword: South America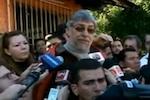 Paraguayan President Fernando Lugo has been ousted in what he has described as a parliamentary coup. On Friday, the Paraguayan Senate voted 39-to-4 to impeach Lugo, saying he had failed in his duty to maintain social order following a recent land dispute which resulted in the deaths of six police officers and 11 peasant farmers. A former priest, Lugo was once called the "Bishop of the Poor" and was known for defending peasant rights. Argentina, Brazil, Venezuela, Chile and...
Conn Hallinan - On one level, April's hemispheric summit meeting was an old-fashioned butt kicking for Washington's policies in the region. The White House found itself virtually alone—Dudley Do-Right Canada its sole ally—on everything from Cuba to the war on drugs. But the differences go deeper than the exclusion of Havana and the growing body count in Washington's failed anti-narcotics strategy. They reflect profound disagreements on how to build economies, confront inequity,...