Keyword: indignados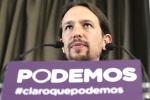 Spanish political party, Podemos, only became an official party last March, but a recent poll by El País found that 28% of the population supports it - enough to possibly win Spain's next general election. Last May, Podemos surprised many by receiving 1.2 million votes and five seats in the European Parliament. The party grew out of the anti-austerity "indignados" movement that began occupying squares in Spain four years ago. Meet Podemos Secretary General, Pablo...

Today the speed at which we spread information is so fast that a single email can launch a worldwide awareness campaign, as with the Occupy movement. Yet as techno-sociologist Zeynep Tufekci seeks to show, the ease of social media can actually hurt social change in the long run. From Gezi Park to the Arab Spring to Ukraine to Hong Kong, she shows how today's movements can miss out on the benefits of doing things the hard (and slow) way. Technology does empower in multiple ways, but easier...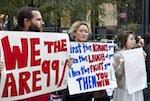 How did the financial crash in Iceland inspire the Spanish Indignados and Occupy Wall Street movements? Why did the Arab Spring in North Africa end with Islamists running Egypt? How did the peaceful movement against a dictatorship in Syria degenerate into an all out civil war? World famous Spanish sociologist, Manuel Castells, best known for his research on the information society, communication and globalization, talks about the emergence and characteristics of new social movements around...

Anti-austerity rage intensified in Madrid, as protesters surrounded the parliament Tuesday night in a sign of mounting frustration towards the right-wing government. Their demands included the resignation of top officials with new elections, the halt to austerity measures, and the rewriting of the Spanish Constitution. The protesters charged the government with theft and criminal activity for implementing harsh austerity measures, hiking taxes, record unemployment and allowing mass evictions...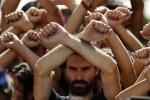 Amy Goodman - In Madrid, Spain, protesters are celebrating a major victory after that country's high court opened a criminal investigation into the former head of Spain's biggest mortgage lender. Rodrigo Rato, the former head of the IMF, has been ordered to appear in court to face criminal fraud accusations related to the downfall of Bankia, a banking giant that has sought tens of billions of dollars in bailout money. The news marks a rare case where a former executive is facing a criminal...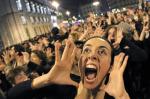 Before Adbusters called on activists to Occupy Wall Street, thousands of Spaniards set up camp in Madrid's iconic Puerta del Sol, and in public squares across the country. Now, as the occupy movement around the U.S. sets its sights on the longer term struggle for social and economic justice with movements like Take Back the Land and Occupy Our Homes, the Spanish experience has valuable lessons to offer what is now a globalized popular front. © The Real News Network.