Keyword: Nobel Peace Prize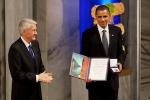 Norman Solomon - The Nobel Peace Prize that President Obama received 40 months ago has emerged as the most appalling Orwellian award of this century. No, war is not peace. George Carlin used to riff about oxymorons like "jumbo shrimp," "genuine imitation," "political science" and "military intelligence." But humor is of the gallows sort when we consider the absurdity and tragedy of the world's most important peace prize honoring the world's top...

The awarding of the Nobel Peace Prize to jailed Chinese human rights activist, Liu Xiaobo, has raised tension between China and the West. Xiabo advocates for human rights, freedom of expression and democracy in China and his activism has resulted in an 11-year jail sentence for what has been described as "subversion" by the Chinese government. The Nobel Peace Committee, awarded Xiabo the peace prize for using non-violence to demand human rights, raising China's ire....