Keyword: South of the Border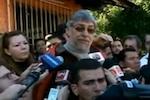 Paraguayan President Fernando Lugo has been ousted in what he has described as a parliamentary coup. On Friday, the Paraguayan Senate voted 39-to-4 to impeach Lugo, saying he had failed in his duty to maintain social order following a recent land dispute which resulted in the deaths of six police officers and 11 peasant farmers. A former priest, Lugo was once called the "Bishop of the Poor" and was known for defending peasant rights. Argentina, Brazil, Venezuela, Chile and...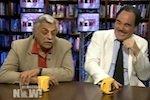 Award winning director, Oliver Stone, and activist historian, Tariq Ali, talk about the sea change in Latin American leadership and economic reforms on the continent while promoting Stone's latest documentary South of the Border, co-written by Ali. Latin America is the only continent on the planet where a number of countries reject neoliberal economics. According to Stone, former Argentinean president, Néstor Kirchner, was the first president to reject neoliberal economics --...
In January 2009, filmaker Oliver Stone traveled to Venezuela to interview President Hugo Chavez. Stone says, "Chavez is as much of a threat to the system as Castro was. He's a great example. If he succeeds, it will be the first time in Latin American history, except for Castro, where he's led an entire region away from the United States' economic controls." Stone's film about Chavez, "South of the Border" premiered at the Venice Film festival....