Keyword: carbon trading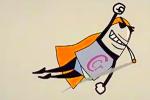 Once upon a time, not so long ago, world leaders gathered to make an agreement to fight climate change. They met in Japan and agreed to the famous Kyoto Protocol. A principal feature of the Protocol turned out to be carbon trading: a magical solution to curb CO2 emissions. It was presented as a flexible market mechanism able to tackle climate change in a cost effective way. The magical elements were carbon credits, who reached the status of superheroes once their full potential was...
The Story of Cap & Trade is a fast-paced, fact-filled look at the leading climate solution being discussed at Copenhagen and on Capitol Hill. Host, Annie Leonard, introduces the energy traders and Wall Street financiers at the heart of this scheme and reveals the "devils in the details" in current cap and trade proposals: free permits to big polluters, fake offsets and distraction from whats really required to tackle the climate crisis. If you've heard about Cap & Trade,...