Keyword: Oliver Stone

Three-time Academy Award-winning director, screenwriter and Vietnam War veteran, Oliver Stone, has made numerous acclaimed films, including Platoon, Wall Street, Born on the Fourth of July, JFK, Nixon, W., and Wall Street 2: Money Never Sleeps. Now Stone and historian Peter Kuznick from American University have teamed up to produce a 10-part Showtime series titled "Untold History of the United States". Stone talks about the significance of understanding that moment in history...

Academy Award-winning Oliver Stone has teamed up with historian Peter Kuznick to produce a 10-part Showtime series called "Oliver Stone's Untold History of the United States." Drawing on archival findings and recently declassified documents, the filmmakers critically examine U.S. history, from the atomic bombing of Japan to the Cold War, to the fall of communism, and continuing all the way through to the Obama administration. Contrary to what's taught in American...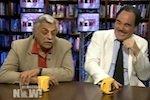 Award winning director, Oliver Stone, and activist historian, Tariq Ali, talk about the sea change in Latin American leadership and economic reforms on the continent while promoting Stone's latest documentary South of the Border, co-written by Ali. Latin America is the only continent on the planet where a number of countries reject neoliberal economics. According to Stone, former Argentinean president, Néstor Kirchner, was the first president to reject neoliberal economics --...
In January 2009, filmaker Oliver Stone traveled to Venezuela to interview President Hugo Chavez. Stone says, "Chavez is as much of a threat to the system as Castro was. He's a great example. If he succeeds, it will be the first time in Latin American history, except for Castro, where he's led an entire region away from the United States' economic controls." Stone's film about Chavez, "South of the Border" premiered at the Venice Film festival....