Keyword: Canada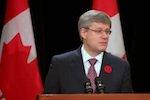 Canada has long been known as a neutral mediator. The country has often played a nonaligned diplomatic role, but when it comes to foreign policy on Israel, the government of Canada has given up any pretence of neutrality and very publicly picked one side. In 2008, when Hamas won democratic elections in Gaza, Canada was the first to cut all aid to the Palestinian Authority. In 2009, during Israel's attack on Gaza, the United Nations Human Rights Council passed a resolution condemning the...
26 August 2009, marked 60 days of the Honduran resistance to the military coup, reports The Real News Network (TRNN). The date marked 60 days since the cancellation of the non-binding national survey on rewriting the constitution and the removal of President Manuel Zelaya. While the coup government continues to receive military and economic support from the government in the US and Canada, not a single international government has officially recognized the coup regime. Nevertheless, in the...
Honduran President Manuel Zelaya was ousted last month just hours before what would have been the first ever popular consultation in Honduran history in order to gauge the people's support for re-writing the country's constitution that was written in 1982 when the country was ruled by a US-backed military dictatorship. The current constitution is easily manipulated by the Honduran economic elite, who have the support of the United States (US) and Canada, says this report from The Real News...
Maurice Carney of Friends of the Congo contends that corporate interests drive all decision-making in Congo. Quoting from research conducted by the International Rescue Committee and NGO Global Witness, Carney names American and Canadian companies involved in the plunder of Congo. The IMF and World Bank are also implicated in reports that reveal how their conditional loans further exacerbate the conflict and the suffering of the Congolese people. Nita Evele of Congo Global Action sheds light...