Keyword: green economy


The Rio+20 summit is taking place from 20-22 June 2012 in Brazil where world leaders will be asked to make "voluntary commitments" towards a global plan for sustainable development. But, it looks like prospects for a new global agreement, which everybody signs on to, are looking bleak. The Inter Press Service reports that after two weeks of closed-door negotiations, a United Nations preparatory committee (PrepCom) has failed to reach consensus on a global plan of action for...

There've been numerous media reports of National Union of Metal Workers of South Africa's (NUMSA) call for a "socially owned" renewable energy sector. Recently, The Real News Network, a US-based media outlet, talked to Cedric Gina, president of NUMSA about the significance of workers leading the transition to a green economy. South Africa is a country heavily dependent on carbon emitting fossil fuels, mostly in the form of coal, with seriously negative implications for climate...
Saliem Fakir - It could be argued that the climate change issue has become less about climate justice and more about new profits. In South Africa, the concept of the green economy is abuzz with nervous energy. There have been numerous conferences on the subject in light of the upcoming United Nations Climate Conference (COP 17) to be held in Durban later this year. But is "green growth" just about new markets and different types of goods that carry the green label? Is it just about greening an...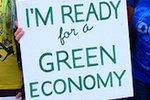 Glenn Ashton - The United Nations Environmental Programme (UNEP) has recently released a practical strategic analysis that provides a "greenprint" to shift us from our collective environmental crises toward a sustainable future. Entitled "Towards a Green Economy: Pathways to Sustainable Development and Poverty Eradication - A Synthesis for Policy Makers," it highlights the economic opportunities, which emerge if we shift away from our exploitative patterns of business as usual....