Keyword: Mark Duggan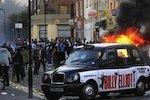 Richard Pithouse - The riot has been a feature of English life for a lot longer than William Shakespeare, village cricket matches or, for that matter, The Clash. The English have rioted against the enclosure of common land, fences, press gangs, factories, prisons, bread prices, tolls and banks. Arson, tearing down fences, smashing machines, setting prices from below, looting and throwing prisons open are all time honoured tactics. The historians of the English riot stress that elites have, usually in...
Laurie Penny - I'm huddled in the front room with some shell-shocked friends, watching my city burn. The BBC is interchanging footage of blazing cars and running street battles in Hackney, of police horses lining up in Lewisham, of roiling infernos that were once shops and houses in Croydon and in Peckham. Last night, Enfield, Walthamstow, Brixton and Wood Green were looted; there have been hundreds of arrests and dozens of serious injuries, and it will be a miracle if nobody dies tonight. This is...