Keyword: Alice Walker
John Feffer - Celebrities are going global in their activism. But are they doing the right thing? Lady Gaga and Alice Walker don't have much in common. One dresses in red meat; the other doesn't even eat the stuff. One writes lyrics like "I want your ugly, I want your disease, I want your everything as long as it's free." The other writes The Color Purple. But they are both cultural celebrities, and the media gravitates to them for comments. And they both have used this celebrity status to...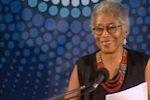 American, author, poet and activist, Alice Walker delivered the 11th Annual Steve Biko Lecture at the University of Cape Town on 13 September 2010. In her speech reflecting on South Africa, Walker said, "I have seen the hovels, the shacks, the unpaved roads, the unkempt children on one side of Johannesburg, and the mansions with the highest walls I have ever seen around dwellings on another. What to make of this? What to make of the words of your Constitution, in which you profess...