Keyword: fracking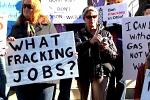 Saliem Fakir - As the government presses ahead with fracking, it is not entirely certain whether all South Africans will reap the rich rewards proponents are punting. There is still some way to go. While exploration rights are being processed there is a legislative mountain that must still be climbed. The legislative terrain ranges from the passing of revisions to the Mining Act to the finalisation of water and drilling regulations as well as government's desire to establish a Strategic...
Saliem Fakir - The local hype over shale gas continues as the ANC's National Executive Committee recently announced that shale gas is a "game-changer" and must be exploited for the benefit of the country. How much gas there truly is below the Karoo's surface is anybody's guess. The original U.S. estimate of the South African resource was put at 480 trillion cubic feet (TCF). Separate resource estimates by the Petroleum Agency of South Africa and the Geological Sciences...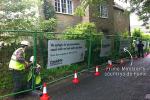 As British Prime Minister David Cameron prepared for the announcement of a controversial new fracking law in the UK, Greenpeace activists gave the leader a taste of his own policy early Wednesday when they set up a mock fracking operation at his country estate. "David Cameron wants to rob people of their right to stop fracking firms drilling under their homes – surely he won't mind if we kick off the under-house fracking revolution below his own garden."...

Drilling for oil and gas releases chemicals into the air, chemicals that in low concentrations (parts per trillion) can affect how babies develop in the womb. Many of these chemicals are not monitored or measured despite the fact that they may also cause cancer, neurological, or immunological problems. Dr. Theo Colborn, president of The Endocrine Disruption Exchange, looks at the health consequences of drilling for fossil fuels. Nobody is measuring all the chemicals that are being...
Emira Woods, Janet Redman & Elizabeth Bast - As children throughout the United States head back to school, it's a good time to remember that schoolchildren throughout Africa often attend schools with no electricity. In areas that do have the utility, frequent power outages are a constant reminder of the need for dependable access to electricity. In June, U.S. policymakers announced two initiatives aimed at increasing electricity production in Africa. President Obama launched Power Africa, an initiative that makes a $7-billion...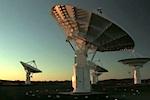 Caught between the promise of prosperity that natural gas extraction in the Karoo might bring and concerns about environmental and health impacts, citizens' resistance to fracking is growing. But that's not all. Fracking also poses a threat to The Square Kilometre Array (SKA), the largest optical telescope in the southern hemisphere, which sits right inside one of the drilling areas for natural gas. There is a real fear that opening up the area to natural gas exploration will...