Keyword: local government elections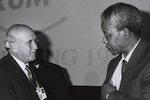 Leonard Gentle - Now that the dust has settled on the 2011 local government elections and the frenzied one-upmanship of the leading political parties has momentarily calmed down, its time to take a long hard look at the results of the South African people's most recent exercise in democracy. Much has been made of the gains that the Democratic Alliance (DA) made on the African National Congress (ANC), but the ANC still won the election and continues to govern all the major cities except for Cape...
Ebrahim-Khalil Hassen - Analysis of the 2011 local government election has focussed on detailed analysis of voter patterns with various interpretations attached to their exact meanings. Some of the outcomes have left us gobsmacked. For instance, why would communities being evicted in the Western Cape vote for the Democratic Alliance? In other instances, what explains the shift in the voting patterns of so-called minority communities? How is it that the ANC has increased the sheer number of votes it gets, but...
Richard Pithouse - Elections can be of critical importance but they're not always all that they're cracked up to be. No one who has lived under a dictatorship or entrenched corruption would ever dismiss the right to vote in a free and fair election as trivial. Elections like, for instance, the one that brought Adolf Hitler to power in Germany in 1932, can be decisive political events. But while Emma Goldman's famous observation that "If voting changed anything, they'd make it...
Ebrahim-Khalil Hassen - The "toilet wars" have made apparent the ridiculousness of the major political parties in South Africa. The Democratic Alliance (DA) even allowed a legal process to work its way up to the Constitutional Court to defend its decision to build unenclosed toilets. On the other hand, the African National Congress (ANC) was quick to wail "mea culpa" when it was found that one of its municipalities had also built unenclosed toilets. The difference in how both parties...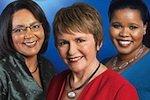 Glenn Ashton - The Democratic Alliance (DA) claims the title of official opposition and governs the City of Cape Town and the Western Cape. Yet questions are emerging about how the DA governs. Just how democratic is local governance by the DA? Does the party communicate with its electorate? More importantly, does it listen to them? Does it accurately represent community interests? Despite claims of non-partisan leadership, the DA should shoulder a significant proportion of the responsibility for the...
Jane Duncan - South Africa is gearing up for its third local government election. In an attempt to break with the authoritarianism of his predecessor, Thabo Mbeki, President Jacob Zuma has promised a new approach to these elections, where more responsive candidates are selected that genuinely represent the will of the people. To this end, the ruling African National Congress (ANC) has committed itself to greater community involvement in the selection of candidates. Branch members select candidates who are...