Keyword: Joseph Stiglitz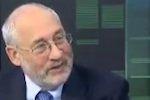 Editor's Note: To hear Stiglitz's views on South Africa joining the BRICS group of emerging economies as well as his thoughts on nationalization in South Africa, watch part two of this interview here. *** World renowned economist and Nobel Laureate Professor Joseph Stiglitz was in South Africa this week participating in a meeting of the Economic Advisory Panel, which he is a member of. Stiglitz also gave a public lecture at the Reserve Bank in Pretoria on Monday, 17 January...
Democracy Now - As the Obama administration rejects a foreclosure moratorium and austerity protests grip Europe, Amy Goodman of Democracy Now assesses the state of the US and global economy with Nobel Prize-winning economist Joseph Stiglitz, author of Freefall: America, Free Markets, and the Sinking of the World Economy. Stiglitz backs calls for a foreclosure moratorium and says opponents of a new government stimulus "don't understand basic economics." On war, Stiglitz says Iraq and...
The reason Lehman Brothers went down is twofold, says Joseph Stiglitz. Not only were their assets bad, but their products were also very non-transparent. The company simply engaged in a great deal of accounting gimmickry and lost people's trust. Financial markets are based on trust says Stiglitz, and what happened with Lehman Brothers is a breakdown of trust. No one wanted to turn their money over to helping Lehman Brothers because they didn't know what Lehman's assets were worth.