Keyword: Guantanamo


When U.S. President, Barack Obama was first inaugurated into office in 2009, he pledged to close the Guantanamo Bay prison. It's 2014 and Guantanamo is still open. Many of its prisoners have been cleared for release by Obama's own intelligence agencies, yet they remain incarcerated. Obama repeatedly makes remarks about closing the prison to no avail. Meanwhile the American Congress is often cited as the obstacle to Obama's pledge on closing Guantanamo. But, British journalist and author,...

The U.S. military has acknowledged for the first time the number of prisoners on hunger strike at the military prison has topped 100. About a fifth of the hunger strikers are now being force-fed. Lawyers for the prisoners say more than 130 men are taking part in the hunger strike, which began in February. One of the hunger strikers is a Yemeni man named Samir Naji al Hasan Moqbel. In a letter published in The New York Times, he wrote: "Denying ourselves food and risking death every...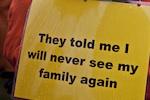 On January 11, a diverse gathering of people standing in near freezing temperatures in London, ensured that the grim 11th anniversary of Guantanamo Bay prison did not go unmarked. Of the nearly 800 men and children held in the prison over the years, 166 still remain today. More than half were cleared for release years ago. However, despite years of detention without trial, interrogations and torture, they remain trapped in a legal black hole. Aisha Maniar of the London Guantanamo Campaign...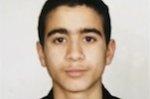 You Don't Like the Truth - 4 days inside Guantánamo is a documentary based on security camera footage from the Guantánamo Bay prison. According to the makers of this documentary, "This encounter between a team of Canadian intelligence agents and a child detainee in Guantánamo has never before been seen. Based on seven hours of video footage recently declassified by the Canadian courts this documentary delves into the unfolding high-stakes game of cat and mouse...
Frida Berrigan - Remember way back when President Barack Obama promised to close Guantanamo, restore the United States' moral standing and end the practice of torture? It wasn't that long ago -- January 2009. As one of his first acts as president, Obama signed the executive order committing to closing the prison within a year and ending the practice of torture. He knew the importance of this principled stance. In a major address on national security later that same year, President Obama held forth on...