Keyword: Gwede Mantashe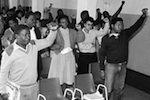 Richard Pithouse - These men… at the head of a team of administrators…. proclaim that the vocation of their people is to obey, to go on obeying and to be obedient till the end of time (Frantz Fanon, 1961). Gwede Mantashe and Jeremy Cronin have both recently taken the view that the National Democratic Revolution (NDR) needs to be defended against attempts to organise outside of direct party control. We shouldn't be particularly surprised by this development given the long history of...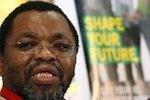 Richard Pithouse - Gwede Mantashe, the Secretary General of the African National Congress and Chairperson of the South African Communist Party, is not a democrat. He's hardly the only influential public figure in South Africa who is not a democrat. Julius Malema, with his hysterical attempts to symbolically annihilate the humanity of his opponents, is certainly not a democrat. And Helen Zille's attempt to justify her illegal, violent and, in strict legal terms, criminal evictions in Hout Bay by...