Keyword: Manuel Zelaya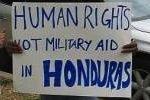 Mark Weisbrot - Imagine that an opposition organizer were murdered in broad daylight in Argentina, Bolivia, Ecuador or Venezuela by masked gunmen, or kidnapped and murdered by armed guards of a well-known supporter of the government. It would be front page news in the New York Times, and all over the TV news. The U.S. State Department would issue a strong statement of concern over grave human rights abuses. If this were ever to happen. Now imagine that 59 of these kinds of political...

Shortly after Manuel Zelaya returned to his home this weekend for the first time since the 2009 military coup d'état, he sat down with Amy Goodman of Democracy Now for an exclusive interview. Zelaya talks about why he believes the United States was behind the coup, and what exactly happened on June 28, 2009, when hooded Honduran soldiers kidnapped him at gunpoint and put him on a plane to Costa Rica, stopping to refuel at Palmerola, the US military base in Honduras. "This...
Democracy Now - 28 June marked the one-year anniversary of the military coup that overthrew the democratically elected President Manuel Zelaya. A year later, the coup's repressive legacy continues, with ongoing reports of killings, disappearances, torture and impunity. Democracy Now speaks with Gerardo Torres, a member of the National Front of Popular Resistance in Honduras for an update of developments under the Porfiro Lobo administration in Honduras. *** AMY GOODMAN: We turn now to Honduras. Today...