Keyword: economic crisis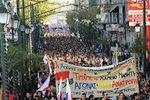 Leonard Gentle - In the streets of Athens, tens of thousands march and protest, unions strike and even sections of the police and public servants join hands against an austerity programme. Daily, we go through a pattern of announcements from European Union (EU) finance ministers, the International Monetary Fund (IMF) and European Central Bank (ECB) promising bailouts and relief from market speculation, only to have the whole thing declared insufficient the next day, while "market jitters" continue...
The European Union and International Monetary Fund agreed to a $146 billion bailout for Greece after Athens committed itself to years of austerity measures. Greek government workers, who are among those bearing the brunt of the measures, plan to disrupt flights and shut down hospitals and schools as protests escalate after 30 billion euros of additional wage cuts and tax increases were unveiled. Amy Goodman and Sharif Abdel Kouddous of Democracy Now speak with Costas Panayotakis, associate...