Keyword: industrial strategy
Saliem Fakir - There are three aspects of energy supply that lend themselves to shifting the diversification of a national economy. The mix of supply should reduce dependence on any source, especially if the source creates a foreign dependence or a systems path-dependence that eventually leads to wider risks for the general economy. In South Africa, coal is becoming too constraining. Our long-term dependence on coal for the majority of our energy, both electricity and liquid fuels, makes it hard to...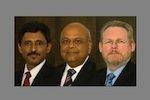 Ebrahim-Khalil Hassen - Dear Ministers, Patel, Davies and Gordhan Consider this letter a criticism that nevertheless appreciates the value of your recent work on creating the building blocks for a new development path in South Africa. After all, as our collective history indicates, power concedes nothing without demand. To which we might add, demands without mobilisation are futile. I interpret the call for a new development path as a demand and a deliberate undertaking towards a more equal South Africa. On...