Keyword: State of the Nation Address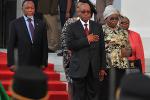 Richard Pithouse - The public discussion around the pageantry at the annual opening of Parliament often treats the event more like the Oscars than a serious attempt to take some measure of where we are. It is frequently received as if the dignity of the nation is invested in the quality of the spectacle produced by this performance of elite power. With politicians implicitly measured against celebrities disappointments are inevitable. This year the discussion about how people looked and dressed, a discussion...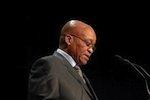 Richard Pithouse - On Thursday, Jacob Zuma promised us a government that will work "faster, harder and smarter." It sounded a little like the old Standard Bank slogan, "Simpler. Better. Faster." The ANC's 2009 election slogan was "Working Together We Can Do More," which was just a word away from the British cell phone company's advertising campaign, launched the year before, that declared "Together we can do more." But the slogan was good for a smile when activists in...