Keyword: citizen journalism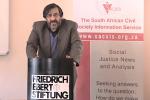 In late July 2014 SACSIS hosted a reflection workshop for our team of writers. Prof. Steven Friedman, Director of the Centre for the Study of Democracy at the University of Johannesburg, was asked to initiate the discussion with a lecture on the question: "What is the role of the social justice commentator in public interest journalism?" Friedman framed his address around the question, "How do ideas change society?" His key argument was that change is a complex and...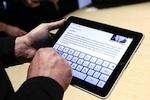 "Journalism is really being remade all the time," says leading new-media academic, Adrienne Russell, who examines the underlying cultural changes that reflect the new news reality. A new style of networked journalism has taken shape in the larger media landscape based on new products, tools, new players and sensibilities. While the rise of the web and the fall of newspapers has heightened anxieties about the watchdogging role of journalism, Russell argues that journalism is also...
Steve Rosenberg, co-founder of Salon.com and more recently author of "Say Everything," a book that chronicles blogging's rise and impact on politics, business, the media, and personal lives, counts down his top ten myths about blogging. Rosenberg argues that blogs are increasingly becoming sources that people turn to for depth of information about particular subjects. Regardless, he contends blogs will never replace traditional media. Watch the clip to hear Roseberg...
Ebrahim-Khalil Hassen - As Professor Pink lead narrator on the SABC educational programme, 'Knock Knock', explored Galileo's confrontation with power, the SABC was engaged in its own tryst with changing power. President Thabo Mbeki appointed the board of the SABC in a move interpreted as incongruous with resolutions taken by the ANC at its Polokwane conference. In possibly an imaginary fisticuff with an ex-President, the admirable gusto of politicians arguing for a free press was expected. Cynics were left...
Twitter's been around for two years and is currently experiencing explosive growth as an online social networking tool. It is second in popularity only to Facebook. The number of people using Twitter has risen from just two million to 20 million in the past year. These are not just people using the tool to stay in touch with friends (many are), but a key trend that is emerging is Twitter's ability to take citizen journalism to new heights. Due to the format of the tool (short messages...