Keyword: Charleston Church Shooting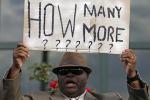 Richard Pithouse - Since the 1920s Charleston has been the name of a dance, a dance with roots in Africa and made white and famous on Broadway. Now Charleston is the name of a massacre, the murder of nine people and the desecration of the Emmanuel African Methodist Episcopal Church. Charleston was founded as Charles Town in 1670 when Charles II of England granted land in Carolina to some of his supporters after he was restored to the throne. The city, and its putative Southern gentility, was built on...

In an act of racial hatred, Dylan Roof, a white gunman shot dead nine people in an African-American church in Charleston, South Carolina this week. Before pulling the trigger, Roof said, "You rape our women and you're taking over our country. And you have to go," Roof's Facebook page sports a picture of him wearing the old apartheid-era South African flag, which white supremacists have adopted as their symbol of racial hatred. Efia Nwangaza from the Malcom X Grassroots...