Keyword: Yanis Varoufakis

With the debt clock ticking, Greece is fast running out of money. The country has ordered all state bodies to place their cash reserves in the nation's central bank, the Bank of Greece, as it struggles to stay afloat. Greece is supposed to receive the last installment of its bailout funds from European creditors, but the country's new leftist, anti-austerity Syriza party has expressed concerns about its terms. The creditors are reportedly pressuring the country to restructure...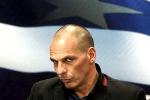 Frances Coppola - The Greek deal on Friday achieved two things. Firstly, it confused everybody. Not much seemed to have changed since the angry meetings of the beginning of the week, and yet all the protagonists seemed to emerge happy. Secondly, it allowed everyone to preserve their previous opinions. People who thought that Germany should win, thought it had; people who thought that Greece should win, thought it had. People who wanted Greece to stay in the Euro, thought it would; while people who wanted...