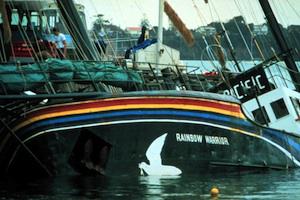 Picture: The Rainbow Warrior that was sunk by French intelligence agents to prevent it from protesting against France's nuclear testing near Pacific islands.
It will be 30 years next month since French intelligence agents bombed the first Greenpeace ship, the Rainbow Warrior, sinking the ship and killing one crew member. The event is currently being commemorated around the world. What is less well known about the anti-whaling ship is that it was also instrumental in transporting indigenous Pacific Islanders from their homes which had been contaminated by American nuclear testing.

The citizens of Rongelap in the Pacific's Marshall Islands were situated just 150 kilometres away from the American 15 megaton nuclear bomb, Bravo, when it was dropped in 1954. About 1000 times more deadly than the bomb dropped on Hiroshima during the second world war, the nuclear fallout from Bravo literally covered the whole of Rongelap, Thirty years later, suffering from thyroid cancer and having had children with birth defects, the Rongelap residents asked the Rainbow Warrior crew to move them to the Mejato Island in a successful ten day operation, with three trips being made to move 300 Rongelap residents and 100 tons of building materials.

Refugees from other sorts of wars and from joblessness are today attempting similar journeys, but unfortunately have no chance of being transported by a seaworthy vessel like the Rainbow Warrior or a crew filled with the spirit of solidarity. It is estimated that half a million African migrants are going to put their lives in the hands of incompetent and often violent people smugglers over the next few months, in an attempt to cross the Mediterranean sea to Europe. Thousands of migrants have already drowned during this crossing over the years.

The humanitarian Migrant Offshore Aid Station, which runs a large yacht and two drones from Malta, started trawling the Mediterranean Sea looking for migrants in danger last year. However, their ship mainly offers food, water, lifejackets and medical help to the migrants while it waits with them for government naval vessels to arrive. Although this is useful, in that the migrants are not left to drown, most of those rescued are later deported to the countries they chose to leave, often after long periods of incarceration in deportation centres which are little more than open air jails.

In South East Asia, sea crossings turn deadly nearly all the time for migrants in the hands of people smugglers. The International Organisation for Migration says up to 8000 migrants may be stranded at sea near Thailand and Indonesia at the moment, with no country willing to let them land. Adopting the same approach as Western governments, the South East Asian governments play political football with these migrants. The barbaric Indonesian regime (currently in its 54th year of a brutal military colonisation of West Papua) sent its navy recently to tow one stricken boat out of its waters, claiming that the migrants were not stateless Rohingya Muslim refugees fleeing religious persecution but only Bangladeshis looking for work. This was after the boat, which carried pregnant women and small children, had already been at sea for several weeks and had run out of food and water.

The Australian government's approach to migrants who arrive by sea has been even harsher, with the government preferring to pay dozens of millions of rands to the Pacific Island states of Nauru and Manus Island to set up privately run deportation centres for Australia. The Australian navy simply tows any migrant vessels to these islands where the migrants are effectively jailed, often for years.

In South Africa too, the ANC government is involved in an endless cycle of deportations. The recent Afrophobic attacks against Black migrants from other African countries gave the ANC the opportunity to launch 'Operation Fiela' last month, and imprison thousands of undocumented migrants. Although public interest law groups managed to stop some of the deportations, over 1000 Malawians alone have been held in the privately run deportation centres for well over a month with about 300 having already been deported to Malawi, arriving "destitute", according to the Malawian media. In a ridiculous turn of events, about 3000 Zimbabweans were reported to have been stranded at the Lindela deportation centre for up to eight months because Home Affairs had no money to drive them 550 kilometres back to the Zimbabwean border.

The current carousel of deportations, where many of those deported immediately attempt to return, may seem pointless but it benefits corporations and governments. Right wing Tory parties, currently gaining momentum globally, use their tough stances on migrants to attract votes from their own citizens, without mentioning that every person they deport costs tens of thousands of wasted rands. The other beneficiaries are the criminal people smugglers and the transnational companies like Group Four Security (G4S) and Serco, who are paid enormous sums of money by governments to run appalling open air prisons (deportation centres).

G4S was effectively started when Margaret Thatcher decided to privatise detention services and the British company saw an opportunity to specialise in deportations. Since then, it has spread out globally and has been accused multiple times of human rights abuses in several different countries, including the torture of Palestinian political prisoners captured by Israel, the suffocation of an Angolan man being deported from Britain, and the torture of prisoners in South Africa.

G4S used to run the Australian deportation centres on Manus Island in the Pacific, where migrants are dumped after being intercepted at sea by the Australian navy, but was fired last year after its guards were involved in a violent attack on the migrant captives one night. Transfield, the transnational company that took over, was no better and was earlier this year found to be raping and sexually abusing child detainees and selling drugs in exchange for sex.

Rainbow Warrior founder Susi Newborn told SACSIS that more direct action was needed but also that people needed to change governments' policies.

"Had the sea migrations been happening years ago when we had the Rainbow Warrior, we would have stepped up to the plate and gone in to help. There are a lot of old ships that rich people could buy to transport people. However, you may be able to rescue people only to take them somewhere and find them being thrown into camps" Newborn said.

She added that thousands of people who had no part in causing climate change would soon need to migrate because of climate change, she said.

Newborn called for a global divestment campaign from those banks that invest heavily in fossil fuels. Climate change brought about by the burning of fossil fuels was causing an increase in the number of poor people seeking to migrate, and having no alternative but to use people smugglers.

In the meantime, the iron fisted approach by governments to migrants or "state-funded xenophobia" looks set to continue.