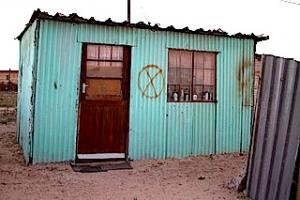 Picture: No Lands Too Foreign/Flickr
Land ownership is a prickly problem in South Africa, which has not yet been properly addressed, despite its prioritisation in 1994. The primary focus on land redistribution has understandably, but perhaps unwisely, centred on the issue of agricultural land holdings. Given increased rates of urbanisation, it can be argued that urban land tenure demands similar, if not higher levels of attention.

Land is at the foundation of conventional - and informal - economic wealth, in both developed and developing nations. Hernando De Soto, the progressive Peruvian economist, noted that land holdings of the poor effectively become "dead capital" if they do not enjoy some formal recognition of ownership or title. Without security of land tenure in South Africa, the opportunity to narrow the increasing inequality gap will become harder than it already is.

How much does land tenure really matter? Studies have shown remarkable benefits in wealth generation and social upliftment amongst poor communities with secure land tenure. For instance food productivity has been shown to increase by 60% and family income by 150%. Investments in property improvements double. From a social perspective, teen pregnancies halved while graduation rates doubled.

For these and similar reasons land tenure security forms an integral part of Millennium Development Goal (MDG) number 7, ensuring sustainable development and MDG 1, to eradicate extreme hunger and poverty. Consequently the state is obliged to ensure proper mechanisms for secure tenure are met.

Conventional wisdom informs us that whites still control around 87% of all land in South Africa. Again this figure concentrates on agricultural land and ignores the far more complex picture of urban land ownership. This is further complicated by the matter of traditional land ownership, where the state is the de facto owner, but tenure is controlled by traditional leadership structures. This remains a prickly issue in a nation, which purports to prioritise individual rights.

There are cases of RDP housing being built on "traditionally" controlled land where leadership has been reluctant to devolve title for fear of losing influence and power. This clearly runs counter to constitutional individual rights. However, the opposite is also true; because traditional ownership structures remain there is a greater chance of formalising ownership than in new, urban semi-formal townships because of greater community cohesion.

Since 1994 the South African government has embarked on one of the largest home building programmes in the world, with mixed success. Over three million houses have been built and tens of billions of Rands have been spent. Many early RDP houses were of poor quality and their planning and design were poorly considered. The running costs and devaluation of these dwellings has been inordinately high.

More relevantly around a third of the owners of these houses do not have secure tenure in the form of proper title deeds because due process has not been properly followed. An even higher proportion of this housing stock has been sold on to other residents. This regularly occurs before the mandated 8-year sale embargo period has passed. In many cases immigrants have become inadvertent beneficiaries.

Sales of RDP houses or plots in informal settlements are often driven by adverse circumstances, such as a death in the family or loss of employment, with consequent requirements for ready cash. The victims of this so-called down raiding are inevitably those who are economically vulnerable and uninformed about their property rights.

Most of these sales are privately negotiated, with no legal oversight or exchange of documents, should any exist. Street committees sometimes play a role in "legitimising" sales but this has no legal sanction. As a result, significant state investment into upliftment and property, apportioned to its poorest citizens, has effectively become dead capital. Consequently this vast capital holding cannot be leveraged against micro-loans, mortgages or other formal financial instruments.

This does not mean that informal loan instruments cannot be, and have not been employed to unlock this value, to some extent. Informal loans, outside of stokvels, are often secured by pledges against either salary or property. Default can result in losing property to loan sharks, especially given the exorbitant interest rates charged, which can exceed 10% per week. Again, this results in victimisation and property down raiding.

However there are cases of unsecured property being used to leverage otherwise unsecured loans through the informal economy. The extent of this requires further research but it echoes similar trends elsewhere in the world where informal, unsecured tenure exists. It indicates that there are clear opportunities to leverage economic assets through less formal tenure mechanisms.

This gives rise to the argument that secure tenure need not initially go as far as the existing title deed scheme familiar to most homeowners. While title deeds are an ideal to strive for, they are often expensive to administer. Given the disputed ownership of many RDP houses and informal properties on which shacks have been erected, there are alternative methods to secure tenure, which are cheaper and more manageable.

Excellent research by groups like Urban LandMark and the Development Action Group (DAG) has documented examples of the existing shortcomings and contributed to some well-structured solutions to this socially exclusionary bottleneck of liquidity. These groups have undertaken extensive research, deserving wider recognition.

Numerous commentators have raised the dangers of regularisation of tenure using the existing freehold title deed system. This spreads right up into government circles that use it to excuse the state's failure to heed its obligations to provide title to recipients of land or housing grants. There is also a perceived risk that full title based tenure places undue pressure on property owners. It can increase the costs and obligations of the most economically vulnerable, creating conditions ideal for gentrification and down raiding, further alienating this vulnerable sector.

One suggested solution is an incremental approach to securing tenure. The first step involves recognition of areas, either formal or informal, pre- or post-development. These areas must be accurately surveyed and captured on land use maps. Residents then initially gain security of tenure through collective and not individual security. However, individual recognition of ownership is implicit in the process and devolves through a step-wise formalisation.

This can take place through local registers, allied with billing processes, house numbering and a formalised central registry capturing all these details. Innovative methods such as the use of cell phone technology to register – and transfer - title can also be employed, given the high rates of penetration of this technology.

While tenure security is largely the obligation of the state, the role of the state should be largely facilitatory. This means that transitionary mechanisms must be practical, realistic and functional; red tape and unworkable systems must be removed and restructured. The real work will fall to local government planners and officials working in concert with local residents, NGOs and community based organisations.

It is also essential to harness the networks and skills such as the Shackdwellers Movement and groups like Abahlali baseMjondolo. Doing so may require facilitation through conflict resolution teams as the gulf between these groups and national and local authorities have become strained over long-standing tensions. However, engagement is preferable to confrontation and some hopeful examples are emerging of co-operative developments between municipalities and these groups.

The few remaining actors in the NGO housing field need to shift their perspective away from the excellent work they have done in devising roadmaps, toward implementing tenure security and shifting towards providing facilitation. Their skills and knowledge are essential in facilitating governance processes and in empowering local communities.

S'bu Zikode of Abahlali baseMjondolo has emphasised the impossibility of ignoring the inputs and needs of those who require the assistance. While the technical expertise of land use and urban planners is required, as is the facilitatory ability of civil society actors, these inputs can only occur in concert and in mind of solving the real problem – getting some sort of secure land tenure, trade and land facilitation system into place for communities, on the ground. This must be tailored to the needs and requirements of poorest, most disenfranchised and marginalised or it will not succeed. Failure will mean that the gap between rich and poor will only grow.

As Zikode says " An idea can only move into the world and start to reshape the world when it has a living force behind it." The living force must include the people who need the assistance, not just as faceless recipients but as individuals and communities. The state needs to reshape its role from that of a top-down dictator, to that of a receptive, adaptable partner, able to fulfil the requirements of local government to help everyone live better lives.

Dictating to people is a dictatorship – listening to them and then co-operatively reacting is democracy. By properly managing land tenure security amongst the most vulnerable amongst us, a huge opportunity arises to manifest a profoundly beneficial social and economic transformation.