Dale T. McKinley
Dr. Dale T. McKinley is an independent writer, researcher and lecturer as well as political activist. Originally from Zimbabwe, Dale has lived and worked in Johannesburg since 1990. He ran/managed a socialist bookshop from 1991-1994 and was a full time activist/ educationist with the South African Communist Party from 1995-2000 (before being expelled for trying to be a communist).

Dale was a co-founder and executive member of the Anti-Privatisation Forum and remains active in social movement/community struggles. He holds a PhD. in Political Economy/African Studies. Dale occasionally lectures at university level, gives regular talks/inputs to a wide variety of organisations and has produced numerous research reports and analyses for a range of NGOs, academic institutes and other civil society organisations. He is the author three books and has written extensively on South African and international political economy, socio-economic rights/struggles and liberation movement and community politics.
Dale T. McKinley - It was 2am on a cold August night last year when six screaming and heavily armed members of the SA Police Services forcibly removed their driveway gate and tried to bash down their kitchen door. But, this wasn't a stealthily planned arrest of much-sought after murderers, some court-ordered operation on a heavily fortified residence belonging to a member of organised crime or a raid on the house of a government official suspected of serious corruption. No, it was members of a police...
Dale T. McKinley - If there is one thing that the ruling ANC and the government it runs hates more than anything else it is the charge that they are increasingly acting like the old National Party and its apartheid state; more specifically, that they are rapidly embracing the very securitisation of the state that the forces of liberation (including the ANC its SACP ally) fought so hard to resist and consign to the dustbin of apartheid history. Unfortunately but somewhat predictably, the way in which the ANC...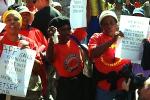 Dale T. McKinley - One of the questions I am sure many in South Africa (and abroad) have been asking themselves more recently is how the state of the nation more generally and of the ANC itself more specifically has gotten to this point? Let's face it; there is a huge amount of disillusionment and disappointment out there, of varying measure, intensity and origin, which cut broadly across our sizeable societal divisions. Most often however, the 'answers' ignore the variegated but...
Dale T. McKinley - The ANC might be about to turn 100 years old but when it comes to its contemporary politics, the last four years seems like a lifetime of its own. It was four years ago, almost to the day, that the ANC gathered at the now infamous Polokwane Congress and when it was all over the general view both inside and outside the ANC that it marked a fundamental 'turn' for the ANC and the country; not simply in respect of a new national and ANC leadership but more crucially, in respect of the...
Dale T. McKinley - If one has been relying solely on more recent mainstream press coverage and associated NGO-academic interpretations to understand and analyse South Africa's foreign policy/diplomacy then it would only be a slight exaggeration to say that the overwhelming conclusion would have to be that China has become our new foreign 'master'. Whether it's the Dalai Lama saga, the Libyan conflict, the situation in Zimbabwe, trade issues, general North-South politics or diplomatic...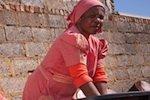 Dale T. McKinley - The first and most primary contradiction of the relationship between the Constitution and the majority of South Africans – who are black and poor - is to be found in the way in which the Constitution was forged. From the very beginning of informal talks in the mid-1980s involving the main component of the exiled national liberation movement - the ANC - and various representatives of the apartheid order, the process of negotiation out of which the Constitution would eventually...