May 2008
Visit the archives.
This excerpt from the Massachusetts School of Law argues that the IMF and World Bank compelled Latin American nations to make structural adjustments, which are a form of neoliberal economics that include privatization and open markets. Open markets and less regulation in Latin America, as well as in other developing countries, have led to the destruction of small businesses, as large companies from America and other parts of the developed world entered their markets. The video clip is...
Glenn Ashton - Although South Africa has adequate environmental legislation governing how we deal with our waste, cities and towns across the nation face a crisis. I recently visited the picturesque town of Swellendam and was brought face to face with the consequences of this mismanagement. At mid morning on a glorious autumn day the entire town was smothered by a toxic swathe of smoke emanating from the town dump. The smell of burned plastic and all sorts of noxious by-products were not only visible but...
In 1996 electric cars started appearing on roads in California (USA). These cars that were produced by General Motors (GM), required no petrol, were quiet, fast and produced no exhaust fumes. All too suddenly, the cars disappeared from the roads. Why did this happen? The documentary "Who Killed the Electric Car?" provides an expose' of the collusion between oil companies and the motor manufacturing industry. It is alleged that these companies killed the electric car because they...
Mohamed Motala - These days we are faced with seemingly perplexing questions about South Africa. After a decade and a half of democracy, poverty and underdevelopment continue to deepen in some areas. Open and direct racist behaviour is directed at black people. Violence against women takes on a very public presentation, as taxi drivers assault women for wearing skirts. And our columnists and newspaper editors are debating whether it is appropriate to discuss the native question. On top of all this, the...
FAZILA FAROUK SACSIS is the brainchild of Fazila Farouk. She is founder and executive director of SACSIS. Fazila holds a M.Sc qualification in development planning from the University of Natal (1996) and has also completed a PHD-level course in social theory at the University of Witwatersrand's School of Public and Development Management (2004), which she passed with distinction. Fazila has spent more than a decade working for both local and international NGOs. Her experience...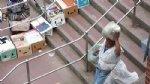 Saliem Fakir - The Gross Domestic Product (GDP) has become an end all, and be all, when we look to economic indicators as a measure of a country's success and progress. In general, when people speak of GDP, they speak loosely and without meaning. When the government says it wants to grow the economy by five or six percent, this usually means relative to the GDP growth rates of other high-flying countries. There is always that eye of envy caste upon rival economies. Everything looks good on the surface...