January 2014
Visit the archives.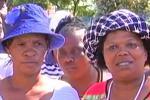 Minister of Mineral Resources, Susan Shabangu, has suspended Australian mining company Mintails' operations in Kagiso 1 on the West Rand after community members embarked on protests citing serious environmental, safety and health violations and structural damage to their houses as a result of the mine's operations in close proximity to their homes. Media for Justice reports that community members view government's investigation into Mintails operations as a smokescreen to...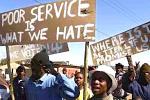 Richard Pithouse - Jan Rivombo. Mike Tshele. Osia Rahube. Lerato Seema. Here we are, not even a month into the new year, and the police have already killed four unarmed people during protests. Jan Rivombo sold fruit on the streets of Pretoria. He was killed by the police on Bosman Street as street traders tried to defend their livelihoods against an increasingly brutal and predatory state. He was a young man who had been a father for three months. He was not the first person to be killed by the state in...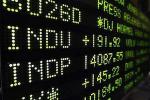 Dutch filmmaker Marije Meerman has produced a trilogy of films examining the secretive and exploitative world of high frequency trading. "Super-quick computers and advanced mathematical formulas have largely taken over trading on the financial markets from human beings". Experts explain that algorithms are now the drivers of a system so complex that humans fail to comprehend it. "Algorithms secretly lie in waiting for the moment that your pension money gets on the...
Mandisi Majavu - Sport in South Africa has always been used by different political actors as a vehicle to advance political agendas. During the apartheid era sport was racially segregated, and one of the tactics that anti-apartheid activists used to fight against apartheid was the international campaign against apartheid sport. The post-apartheid government does not only utilise sports for nation-state building, but to mediate racial and social inequality too. Sports stars such as the late Jacob "Baby...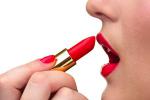 Cosmetics and personal care products are among the least regulated consumer products on the market today. Right now companies are allowed to use virtually any product that they want without any safety assessments before putting products on the market. Cosmetic products include makeup, shampoos, face washes, cologne, aftershave and even baby products. Of the 12,000 chemicals used in the cosmetics industry today, some 80 percent have never been assessed for safety. We simply do not know what...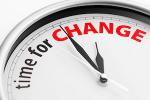 Gillian Schutte - The fanfare at the beginning of a New Year is usually celebratory and full of hope. This celebration is a way for people to wipe the slate clean and begin anew. But last year, 2013, was a particularly tumultuous year in South Africa when we were besieged by problems. In reality, these problems have been with us for many years and cannot be swept under the carpet. Many of the challenges South Africa faces are systemic and must be addressed with greater urgency. Let us include the resolution of...