July 2009
Visit the archives.
Renowned journalist, Bill Moyers of America's Public Broadcasting Service (PBS) interviews former health insurance industry executive, Wendell Potter and discovers that the industry devised a premeditated and intensive campaign to discredit filmmaker, Michael Moore's documentary about health care in America, Sicko. According to Moyers, the anti-Moore strategy document set out clear lines of attack to radicalize the filmmaker in the eyes of politicians, specifically Democrats. The message...
Ebrahim-Khalil Hassen - As Professor Pink lead narrator on the SABC educational programme, 'Knock Knock', explored Galileo's confrontation with power, the SABC was engaged in its own tryst with changing power. President Thabo Mbeki appointed the board of the SABC in a move interpreted as incongruous with resolutions taken by the ANC at its Polokwane conference. In possibly an imaginary fisticuff with an ex-President, the admirable gusto of politicians arguing for a free press was expected. Cynics were left...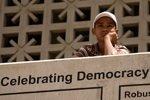 Richard Pithouse - Across the country the most vulnerable people in our society are being subject to brazenly unlawful and often violent action at the hands of the state. Homeless people, refugees, sex workers, street traders and shack dwellers are all being taught, in the most literal sense of the term, to know their place. But state illegality is not only aimed at the segregation of physical space. It is also about ensuring that the people on the margins of society know their political place. This is why...
MIT professor, author and dissident intellectual Noam Chomsky, spoke at the Riverside Church in Harlem on June 12, 2009 at an event sponsored by the Brecht Forum. More than 2,000 people packed into the Church to hear his address, titled "Crisis and Hope: Theirs and Ours." In his talk, Chomsky discussed the global economic crisis, the environment, wars in Iraq, Afghanistan and Pakistan, resistance to American empire and much more. Democracy Now recorded the event on camera...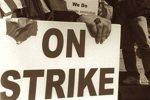 Mohamed Motala - There are a few high profile labour disputes currently taking place in South Africa. The public have entered the fray, influencing the labour debates by engaging with them via newspapers and talk radio programmes. At the same time, public sentiment is being influenced by the manner in which the media is presenting the various labour disputes. Who is allowed to strike? Who has the right to decent pay? Who has the right to decent working conditions? Who has the right to a decent standard of...
The latest G8 meeting is underway from 8-10 July 2009 in Italy. Topping their agenda is the global financial crisis, but environmental NGO, Greenpeace, has sent G8 leaders a strong message about climate change. Known for their radical activism, Greenpeace took over four coal-powered stations across Italy and unfurled huge banners, which asked, "G8: Climate leaders or losers?" It is understood that activists from 18 countries were involved in the action. The G8 hopes to reach...