June 2010
Visit the archives.
Glenn Ashton - In order to prevent criminal behaviour we are quite correctly forbidden to purchase goods which are suspected to be stolen or to be associated with criminal conduct. While an individual failure to heed this basic tenet of the law can result in personal conviction, a collective failure to observe it leads inevitably to a breakdown in both the rule of law and social order. Modern commercial law has given similar legal status and rights to both individuals and corporations. People and...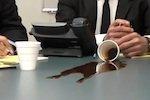 The Upright Comedy Brigade (UCB) is an American comedy group that has satirised the BP oil spill in the Gulf of Mexico, the largest in American history and an environmental disaster of mammoth proportions. To hilarious effect, but also tragically highlighting catastrophic corporate fumbling in relation to this environmental disaster, UCB shows how BP handles a giant coffee spill. The oil spill, which started on 20 April 2010 after an explosion on the Deepwater Horizon drilling rig...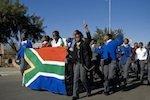 Liepollo Pheko - Reflecting on June 16th in the midst of the flag waving, lung busting, slightly mind-numbing festival that is the world Cup has become almost incidental. In years to come one wonders whether June 16th will be remembered more as the day that South Africa's self respect on the soccer pitch was severely dented or as the day which commemorates our young martyrs in the struggle for freedom. In fact, the state of our attention span is indicative of how we have reconstructed our collective...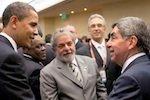 A year ago, US President, Barack Obama, went to the Organisation of American States summit and heard from many Latin American leaders that America's continued isolation of Cuba was out of step with the rest of the nation's represented at the summit. Larry Wilkerson, chair of the US-Cuba Policy Initiative at the New America Foundation contends that America has been muddling around with its foreign policy since the end of the Cold War and that US foreign policy toward Cuba is changing...
Leonard Gentle - The World Cup has rightly captured the country's imagination. Despite Bafana's anaemic performance against the Uruguayans, there is still a clear sense of relief amongst opinion makers that we're pulling off hosting the event. The dominant voice proclaims that we've proven everyone – meaning the prophets of doom – wrong. When the idea of the World Cup bid was first mooted, the debate centred around what benefits it would bring to the country....
Dale T. McKinley - It is no secret that most mainstream movies dealing with real history take great liberties when it comes to telling their chosen 'story'. After all, such movies are made to entertain and make money. That means a simplified, easily digestible and sexed-up historical 'story'. The 'End Game' is no exception. Publicly billed as a 'political drama and thriller' that chronicles South Africa's 'journey to reconciliation …...