April 2015
Visit the archives.
Dale T. McKinley - Amongst its many other attributes, South Africa could arguably be called the Commission capital of the world. While there is no official list of how many Commissions of Inquiry there have been in the 20 years since 1994, suffice to say that the numbers are impressive. In the last 14 years alone there have been no less than 10 national-level, high profile Commissions of Inquiry - five of which have yet to run their course - accompanied by scores of others emanating from the executives and...
Deidre Fulton - Award-winning Uruguayan writer and thinker Eduardo Galeano, considered a leading voice of Latin America's left, has died at 74. The world-renowned author, who had been diagnosed with lung cancer, died in Montevideo on Monday. The novelist and journalist—whose work transcended genre and who once said "all written work constitutes literature, even graffiti"—was the prolific author of books including Memory of Fire, a three-volume narrative of the history of North and...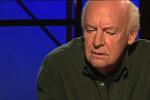 Uruguayan anti-capitalist writer, Eduardo Galeano, died on Monday, April 13, 2015 aged 74. In this 2009 interview, he talks about his penultimate book, "Mirrors: Stories of almost everyone", a book comprising his reflections on the lives of the invisible and oppressed. Galeano said, "We are afraid because the owners of power are also the owners of a big factory of fear. The world is a big factory of fear…You are afraid of losing your job or not finding a job or...
Jane Duncan - In the broader scheme of things, how significant are the recent wave of protests that have engulfed South Africa over the past decade? Are they another means of pressurising the ruling African National Congress (ANC) into delivering better services, or do they represent a new form of anti-systemic politics that promises to change how society is organised, and for the better? Scholars are divided on this issue. On the one hand, the South African Research Chair in Social Change –...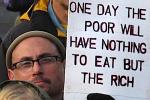 The news of society's growing inequality makes all of us uneasy. But why? In this TED Talk, behavioral economist, Dan Ariely, reveals some new, surprising research about what we think is fair, as far as how wealth is distributed over societies. He then shows how public perception stacks up to real statistics. What he exposes is an incredible knowledge gap in terms of what people think the level of inequality is compared to the reality. Ariely's research findings got really interesting...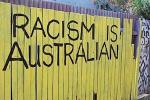 Mandisi Majavu - A 51-year-old white Australian woman, Michelle Veronica Jacobsen, who subjected a black African family to a nasty racist attack and threatened them with a crowbar, has been charged with assault, going armed in public as to cause fear, disorderly conduct and conduct likely to racially harass. Video footage of the woman hurling racist abuse to the black family is available online. Jacobsen, who appeared in the Perth Magistrate's Court this week, had her case adjourned to next month....