March 2014
Visit the archives.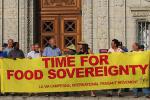 Sonali Kolhatkar - A new report submitted to the United Nations Human Rights Council on the "Right to Food" took aim at the entire basis on which food is produced and distributed on a global scale. Reflecting the type of progressive analysis of our food system from experts like Vandana Shiva and Michael Pollan, report author Olivier De Schutter called for an undermining of large agribusinesses and an infusion of democratic control. Although the report's recommendations are revolutionary,...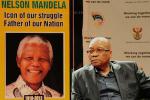 Richard Pithouse - Jacob Zuma will not be redeemed by a 'Lula moment' or 'second transition'. His name will go down in history with Marikana and Nkandla. Different people will call the precise moment at which the conflation of the idea of the ANC with the altogether more tawdry realities of the actually existing ANC became both irrational and immoral differently. For some people the tipping point was the South African Communist Party's embrace of the Soviet invasion of Hungary in...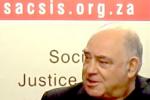 Speaking at a panel discussion on the question of nationalisation for South Africa, former Minister for Intelligence Services, Ronnie Kasrils, who was deeply involved in the negotiations during South Africa's transition to democracy explains how progressive people oriented policies such as the Reconstruction and Development Programme (RDP) were quickly shelved in favour of neoliberal policies such as GEAR (the Growth Employment and Redistribution strategy), which led to the...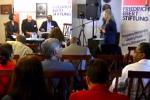 On 13 March 2014, SACSIS and the Friedrich Ebert Stiftung South Africa Office co-hosted a panel discussion about what kind of nationalization would best suit South Africa. We are pleased to see that the SABC 3 News team produced a superb report of our discussion, which aired on national television. SACSIS and FES hosted the event in an effort to contribute to an informed discussion on nationalisation and debunk myths surrounding it. We are delighted that the SABC reported that...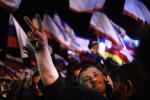 Alexander O'Riordan - This weekend Crimea's hastily organised referendum concluded as expected with an ethnically Russian majority population voting overwhelmingly to merge with Russia. The Western response of sanctions and punitive measures against Russia for its shamefacedly opportunistic occupation will prove in the long run to be largely bluster. There is no doubt the Kremlin is anxious to counter a growing Western-leaning politics in the region and to annex a strategically important part of Ukraine....

On Sunday the people of Crimea voted in a referendum with over 95% in favour of leaving Ukraine and joining Russia. President Obama has said that the U.S. will never accept the results of this referendum and European Union officials have more or less said the same thing. On Monday morning, sanctions were announced by Europe and the U.S. various officials around Russian President Vladimir Putin and in the Ukraine. These will include travel bans and some attacks on their assets in the...