Keyword: inspiring music

Touted as the definitive biography of reggae legend Bob Marley, the documentary, "Marley", directed by Kevin MacDonald opened in international cinemas on April 20th. South African audiences are in for a wait, as local distributor Nu Metro is yet to announce a release date. In the meantime, enjoy the trailer and a wonderful review by Yuri Prasad who reminds us that Marley "was not the first to take the poverty of Jamaica into pop but that his songs were different to most -...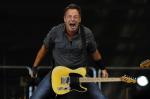 Richard Pithouse - In 1975 Born to Run, Bruce Springsteen's magnificent third album, crashed on to American radio with a dramatic lyrical intensity riding a rushing wall of rock and soul. Time and Newsweek put him on their covers in the same week and at 26 he found himself, along with Bob Dylan, as the newest avatar in the tradition of popular artists that, beginning with Walt Whitman and rolling on through Woody Guthrie, Lead Belly and John Steinbeck have brought a sympathetic poetic attention to the lives and...