Keyword: juice rap news

"Is an honest Fourth Estate the only Force than can restore peace and balance to the Galaxy?" ask Juice Rap News, as they caricature the Julian Assange extradition case in this Star Wars spoof. Juice Rap News consults two of journalism's most influential and inflammatory figures: Rebel journalist, enfant terrible, Julian Assange, who could soon be 'Sextradited' to Sweden. And, on the opposite end of the journalistic spectrum, Rupert Murdoch, head of the mighty NewsCorp...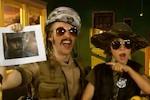 It was only a matter of time before someone produced a spoof of the video Kony 2012, the Internet sensation that went viral despite its misrepresentation of issues in Uganda. Juice Media have stepped up to the plate to produce a rap news segment that speaks truth to power with flair. From Africom to the International Criminal Court, there are no sacred cows for the penetrating wit of Robert Foster who raps about America's quest for a new dark skinned villain -- Africa with its boundless...

Rap News, Episode 7: It's 2011 and amid a flurry of political leaks and revelations, revolutions have rolled across North Africa and The Middle East. Join your host Robert Foster for long overdue analysis of these events, asking the question that's on everyone's lips -- where will revolution spark next? But when a news flash comes in from a special embedded correspondent, the episode takes an unprecedented turn, as that very question is answered in dramatic fashion. How will the...