Keyword: apartheid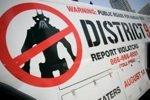 Kim Nicolini - Rumble of revolution. Factory coming back to life. District 9 is not a pretty movie. It doesn't look pretty. Its message isn't pretty. It hurts the eyes to watch. In fact, District 9 is an outright ugly movie, but it is an ugly that is perfectly crafted and takes ugly to the heights of a new aesthetic. The screen is full of unflinchingly realistic ugly slums, banal ugly interiors of institutionalized spaces, and ugly people whose entire lives and bodies have been corrupted by the...
On 30 June 2009, "Spirit of Humanity," a ship carrying activists from eleven countries with humanitarian aid for Gaza was hijacked by Israeli forces and forcefully prohibited from completing its mission. On 15 July 2009, a convoy of 200 human rights activists managed to drive a truck caravan into Gaza after ten days of delays and harassment at the hands of Egyptian and US officials, reports Laura Flanders of GRITtv. Flanders speaks to Huwaida Arraf, a human rights...
Dr. Jeff Halper, an Israeli academic and activist, as well as co-founder of the Israeli Committee Against House Demolitions, gave a lecture on 16 March 2009 at the University of Sydney, Australia, where he explained why he believes Israel's "separation barrier" enforces "apartheid" between Israelis and Palestinians. His lecture - as captured in this video clip - is transcribed below. JEFF HALPER: This is why we use the word "apartheid." Apartheid, in our view,...
Laura Flanders of GRITtv talks to Glen Ford, executive editor of the Black Agenda Report about the implications for racism in America with regard to the Obama administration's decision to "boycott" the United Nation's Racism Conference, also known as Durban II, which took place in Geneva last week. What follows below is a transcript of the interview. LAURA FLANDERS: Glen to you. I mean after this brouhaha and President Ahmedinejad's speech, Robert Gibbs of the US...
The Real News Network provides this clip in which President Barack Obama defends America's decision not to attend the United Nation's (UN) Racism Conference. Billed as the Durban Review Conference, the conference hosted by UN High Commissioner for Human Rights, Navi Pillay, opened in Geneva today. Obama's statement, transcribed below, is somewhat vague in its justifications. However, the one thing that does come out clearly in the subtext of his statement is his administration's...
Yoni Goodman, director of animation for the Academy Award-nominated film Waltz with Bashir, collaborated with Open Society Institute grantee Gisha to create a powerful animated film about how the Gaza Strip's 1.5 million residents experience living in a "closed zone." Despite declarations that it has "disengaged" from the Gaza Strip, Israel maintains control of the strip's overland border crossings, territorial waters, and air space. This includes substantial,...