Keyword: ANC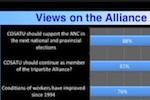 The state of the ANC/SACP/COSATU alliance is being hugely debated following an alliance summit last weekend in the aftermath of trade union federation, COSATU, suspending its general secretary, Zwelinzima Vavi. His suspension came after months of on-going speculation about strained relations and divergent objectives amongst alliance partners. In the run up to South Africa's 2014 general elections, a weak alliance is not a good sign for the ruling party that depends on the electoral support of...
Richard Pithouse - (T)he paranoid construction is … an attempt to heal ourselves, to pull ourselves out of the real "illness", the "end of the world", the breakdown of the symbolic universe. − Slavoj Zizek, Looking Awry: An Introduction to Jacques Lacan through Popular Culture, 1991 Sdumo Dlamini recently informed listeners of a Jo'burg radio station that a multi-headed snake was slithering through South Africa fermenting dissent against the ANC. In the lead up to Mangaung...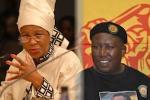 Richard Pithouse - (T)he horses have vanished Heroes hop around like toads - Pablo Neruda, Right Comrade, It's the Hour of the Garden, Chile, 1973 Writing after the French Revolution Immanuel Kant, the German philosopher, noted that "while the drama of great political changes is taking place" people "openly express universal yet disinterested sympathy for one set of protagonists against their adversaries". Kant did not deny the limits, or even the horrors of the French...
Dale T. McKinley - God (of the Christian variety) runs deep in the veins of the ANC. Ever since its founding conference in 1912 was opened by a prayer and the singing of Enoch Sontonga's Christian anthem - 'Nkosi Sikele' i-Afrika ('God Bless Africa') - and ended with the election of a leadership dominated by Christian preachers/theologians, the ANC has, with varying degrees of intensity and application, embraced and invoked its and its leaders 'special'...
Richard Pithouse - What stank in the past is the present's perfume -Lesego Rampolokeng, The Bavino Sermons, 1999 Many societies before us have travelled the well worn path that winds down the slope, gentle at first but then precipitous, that runs from the bliss of a new dawn and into the stench of a rotting dream. And many societies have discovered that neither shared participation in the great drama of a national struggle nor a founding leader that, like Kwame Nkrumah, Jawaharlal Nehru or Jomo Kenyatta,...

Talking about how to make South Africa's democracy work for the poor, Steven Friedman, Director of the Centre for the Study of Democracy argues, "telescoping" all the countries problems onto one mediocre politician (Jacob Zuma) is misguided. Government does not have a bad record of "sheer physical provision to the poor". The real problem that South Africa has faced over the last 18 years has been that we haven't got to grips with the inequalities in the market economy, he...