Keyword: police brutality
Jane Duncan - Last week, the world was confronted with the horror of South Africa's first post-apartheid massacre. Over thirty striking Lonmin mineworkers were killed by the police, who turned semi-automatic rifle fire onto the workers after claiming that they were shot at first. Time will tell whether this was the case, but even if it was, it did not justify the mass killing of so many workers. The available information points to the police having used inappropriate, excessive force to quell the...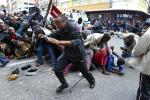 Anna Majavu - Increased police brutality and the prospect of conservative politicians using public money to sue and bankrupt organizations they ideologically oppose - these are the likely outcomes of last week's Constitutional Court judgment against protest organisers. In a judgment which upheld a repressive clause in the apartheid-era 1993 Regulation of Gatherings Act, Chief Justice Mogoeng Mogoeng ruled that members of the public who suffer damages from protestors have the right to recoup their...
Jane Duncan - Public demonstrations have been central to South Africa's democratic life for decades. Yet recent events suggest a narrowing of the substance of the right to assemble, demonstrate and picket, and a de-legitimisation of street politics. In this regard, the City of Cape Town's near hysterical overreaction to attempts to occupy Rondebosch Common is cause for concern. Last week's Constitutional Court case about whether the South African Transport and Allied...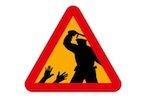 Jane Duncan - The African National Congress' (ANC) next elective congress is looming. Already, there are signs that President Jacob Zuma has lost the confidence of key constituencies in the ANC-led alliance, owing to indecisive leadership and his failure to re-orientate the state in a pro-poor direction. This growing disquiet among working class alliance members may well trigger a succession battle. In response, the new elite clustered around Zuma could be tempted to fight back to retain power,...
Richard Pithouse - The sickening detail of how Andries Tatane was steadily murdered by the police in Ficksburg, shirtless, bleeding and bewildered, blow after blow after blow, has become a national memory. The television image from the next night's news, showing Julius Malema striding into the High Court in Johannesburg with a suited private militia carrying M14 assault rifles, has also become part of the national consciousness. Malema's carefully choreographed performance was designed as a...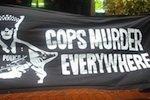 Richard Pithouse - There are moments when a society has to step back from the ordinary thrum of day to day life and ask itself how it has become what it has become. There are times when a society has to acknowledge that it cannot go on as it is and ask itself what must be done to set things on a new and better course. The historians of our children and grandchildren's generation will write the history of our failure to redeem the promise of our democracy and the struggles that brought it into...