Keyword: France

Socialist Party candidate, Francois Hollande has defeated Nicolas Sarkozy in the French presidential runoff, making him the latest EU leader to be swept aside by the crippling debt crisis. Among the first steps President-elect Hollande is planning, is to push back against German-led austerity measures. Moreover, Asia Times correspondent, Pepe Escobar argues, Hollande wants a strategic partnership with the BRICS countries. Like the BRICS group, Hollande wants an end to the dominance of the...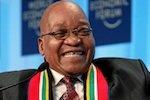 Leonard Gentle - First they came for Papandreou - and I didn't speak out because I thought the Greeks are just lazy tax-dodgers. Then they came for Berlusconi - and I didn't speak out because I thought he was just a racist and sexist old roué. Then they came for Zuma - and I didn't speak out because he can't apply his mind, and he's still running the show. Then they took away my vote - and there was no one left to speak out for me. Some may feel that it may be a stretching it...

Though France currently boasts an AAA rating and has its debts under reasonable control, domestic issues could knock it off its perch sooner rather than later, argues Hamish McRae, chief economic correspondent of The Independent newspaper. McRae told Russia Today that a French economic collapse could mean that the next head to roll after Silvio Berlusconi's might well be that of Nicholas Sarkozy. © Russia Today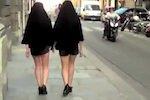 When the French ban on the niqab was passed into law last year, two French students protested the ban by donning niqabs and hot pants to test the reaction of French authorities. The women, both students in their 20's, stomped around Paris targeting the administration buildings of French authorities, notably the immigration office. The French niqab ban went into effect on 11 April 2011. According to the Telegraph, the women call themselves the "Niqabitches" and...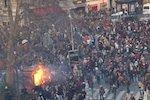 Philippe Marliere - When he entered the Elysée palace in 2007, Nicolas Sarkozy dreamed of a glorious destiny. Enthusiastic commentators predicted that his casual populism would revamp the Bonapartist right, and that his Gallic brand of neoliberal policies would sell the "American dream" to a mistrustful population. Things have not gone according to plan. Sarkozy wanted to be the French JFK; today he looks more like Louis XVI awaiting trial in 1793. He may escape the guillotine, but his...
"Now remember a few months ago it was all about, ooh, if there's too much regulation, it's going to kill creativity in the banking sector. Well, thank you very much for creativity, we don't need too much of that," says Christine Lagarde, the French Finance Minister, who with President Nicolas Sarkozy is spearheading reforms in the French banking sector, aimed at reducing the bonuses of bankers. A BBC poll has found that 67% of French people support more regulatory oversight over...