Keyword: governance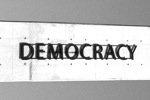 Richard Pithouse - History groans with the suffering caused by authoritarian individuals and regimes that were elected to power. For this reason the only useful measure of the commitment of any political project to democracy is to see how it responds to challenges to its own position and ideas. Although certain state institutions, including universities, have become highly authoritarian, middle class South Africa generally enjoys the right to dissent that is the centre of the democratic ideal. One can...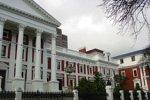 Ebrahim-Khalil Hassen - The truism, same context, different outcomes, applies to the performance of politicians. A select number of politicians have excelled in South Africa, but the public remains unconvinced that the performance of government has improved. Interestingly, across perception surveys, there is a decline in the approval ratings of governments over the last five years. An important proposal has been floated to improve the performance of our government, by having politicians with executive...
Colette Francis - The army is to be deployed in hot spots across South Africa to prevent an outbreak of political violence ahead of this year's elections, says Minister of Defence Charles Nqqakula. This in the wake of a spate of attacks in Kwazulu-Natal (KZN) that has seen tensions between Mangosuthu Buthelezi's Inkatha Freedom Party (IFP) and the ruling ANC resurface. On Sunday a stand-off between the IFP and ANC became so tense that the army was called in to support hundreds of police officers...
Saliem Fakir - There is this erroneous logic that there are developmental states in some places and advanced states in other places. One advances from a developmental mode to some sort of mature state in which the markets take-over. This implicit typology of evolutionary progression of states is just nonsense. There is nothing static and permanent about the operational modes of states. They are creatures of time and context. What needs to be done under different circumstances must be done in the interest...
Saliem Fakir - Somebody coming from Mars would be forgiven for thinking that the era of black rule is rife with corruption and nepotism. The white world would have been thought of as being better if one is to believe that its history was always populated with saints. History though. is infrequently remembered for what it is, seldom uncovered for all of its diversity and always selectively appropriated. Short memory, too, is the enemy of history -- and there is lots of it going around. When it comes to...
John Reynolds - Is it not ironic that we may soon have to call on Thabo Mbeki to be the 'mediator' in the political fall-out between the ANC and the break-away faction led by Lekota and Shilowa? Of course, we should be concerned by the nastiness of the fall-out, but we shouldn't be surprised. Like in all families – which very often political parties become – arguments and break-ups tend to take a more vicious form precisely because they are more personal. It's not strangers fighting, where there...