Keyword: Haiti
Democracy Now - Two-time Academy Award-winning actor and director Sean Penn was honored by the Haitian government at a ceremony marking the six-month anniversary of the earthquake that killed 300,000 people and left more than 1.5 million homeless. Penn first came to Haiti after the earthquake struck to help with immediate relief efforts. He decided to stay to finish what he started. He co-founded the J/P Haitian Relief Organization and is managing a tent camp on the Pétionville golf course that now...
Keane Bhatt - Aid Should Go to Haitian Popular Organizations, Not to Contractors or NGOs For decades, Noam Chomsky has been an analyst and activist working in support of the Haitian people. In addition to his revolutionary linguistics career at the Massachusetts Institute of Technology (MIT), he has written, lectured and protested against injustice for 40 years. He is co-author, along with Paul Farmer and Amy Goodman of Getting Haiti Right This Time: The U.S. and the Coup. His analysis "The...
F. William Engdal, economist and author of "Full Spectrum Dominance: Totalitarian Democracy in the New World Order" has recently written about the possibility of a massive oil find in Haiti and how this might connect to United States (US) strategy in the Caribbean. Engdal says, if you look at a geophysical map of Haiti, it jumps out that Haiti and 'Porto Prince Haiti' lies right along the convergence of three tectonic plates. Generally where there is such a...
Glenn Ashton - The latest catastrophe to hit Haiti has motivated massive responses from a shocked global population. It is hard to believe that an entire nation can be rendered so utterly helpless that they are functionally unable to assist themselves in any meaningful way. But the earthquake of January 13, 2010 is just the latest in a series of body blows to the poorest nation in the western hemisphere. By all accounts Haiti should be a shining beacon of hope, of democracy and an example of the...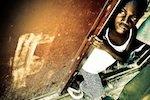 Richard Pithouse - The devastation of Haiti is not a simple matter of bad luck. Earthquakes, like storms and epidemics, hit the poor with vastly more force than the rich. Much of the press coverage of the catastrophe in Haiti has wilfully disregarded the history of how Haiti was made poor and kept poor by, above all, the same American elites that are now dispensing charity, soldiers and advice. Racism has often been close to the surface or even grinning hideously far above it. In London Sky News reported that...