Keyword: 2010 Soccer World Cup
Jane Duncan - The South African Police Service (SAPS) has issued a directive to a number of municipalities not to allow marches for the duration of the 2010 World Cup. How many have received it is unclear. This ban came to light when a civil society march for quality public education, scheduled to take place on 10 June to Constitution Hill in Braamfontein, was banned last week. The Anti-privatisation Forum (APF) also planned to march to protest against aspects of the World Cup and general...
Harry Browne - It was April 1999, and I was in a Paris hotel room, idly watching television, amazed to see a TV chef scooping handfuls of "un peu de sel" to add to the soup. Then came an advertisement, from the station itself: "Nine months after World Cup 98... France celebrates the children of victory..." The premise was that the joy of the nation's triumph the previous summer had now emerged from the womb; the images were a series of close-ups of the arms and legs and bellies of...
Dale T. McKinley - Even if the meanings we give to measurements of time are most often overblown, there is something about the mark of a new decade. In the case of South Africa, 1990 marked the beginning of the end of the apartheid system, ushering in a period pregnant with new hopes, possibilities and dreams. When 2000 rolled around it heralded not only a once in a lifetime turn of a century but carried with it the delayed weight of majoritarian expectation of an age of progress and plenty. So what are our...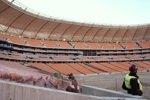 Richard Pithouse - The 2010 World Cup is being sold to us as a moment of collective redemption. Patriotism and theological sentiments are being mobilised to persuade us that a moment of millennial grace is at hand. Africa's time, we are told, has come. Back in 2007 Thabo Mbeki heralded the World Cup as "an event that will send ripples of confidence from the Cape to Cairo - an event that will create social and economic opportunities throughout Africa. We want to ensure that one day, historians will reflect...
'Stayin Alive in Joburg' is a gritty take on inner-city life in Johannesburg. It examines the changing landscape of South Africa's biggest post-apartheid city, providing an eye opening account of the trials and tribulations of Johannesburg's poorest inhabitants engaged in a daily struggle for survival, as they get overlooked by authorities and development agencies fixated on elite projects, including, but not limited to the 2010 soccer world cup. The film is informative, exposing a...
The city of Cape Town appears intent on rounding up homeless people and shipping them off to temporary camps, in an effort to sanitize the city for the 2010 soccer world cup. Though organizers of the world cup insist that they are trying to "integrate" the homeless with the event, there are still persistent reports that the homeless are in danger of being completely marginalized by the 2010 soccer world cup. For more details about the challenges faced by the homeless in Cape Town...