Keyword: United Kingdom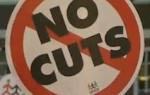 In Britain, up to two million workers marched in the streets this week during the largest mass protest in generations. Teachers, hospital staff, garbage collectors, firefighters and border guards are participating in a 24-hour strike organized by a coalition of 30 trade unions. About a thousand demonstrations and rallies were held across the country. Public sector workers say proposed pension "reforms" will force them to pay more and work for longer before they can retire....


As many as 500,000 protesters marched in London on Saturday to protest Britain's deepest cuts to public spending since World War II. The protests come after U.K. officials estimated corporate taxes would be reduced even as it tackles a $235 billion deficit and plans to cut more than 300,000 public sector jobs. Meanwhile, in the United States protesters gathered in 40 cities on Saturday to oppose tax cuts for the wealthy amid budget cuts to public services. Democracy Now broadcasts a...
In the wake of a rightward shift in European politics, Britain's Gordon Brown seems to be losing his grip on the leadership of the New Labour Party, while his party itself appears to be losing the support of its traditional grassroots base. Al Jazeera's Riz Khan interviews two analysts to shed more light on the issue. *** RIZ KHAN: Hello and welcome. Is Britain's New Labour dying a slow death? British prime minister Gordon Brown and his party have seen some of the lowest poll ratings...
Brian Cloughly - Britain is in a sad state. Sure, the Taliban are not swarming at the gates of London, nor is there famine (although there are too many hungry families), volcanic eruptions or plague (at least, so far). But the United Kingdom is suffering from a crippling sickness, socially and morally. In London, in what used to be known as the Mother of Parliaments, 646 grubby bumptious politicians whoop it up in a handout regime of unstinted financial generosity, designed and monitored by themselves and...