Keyword: freedom of expression
Iceland has proposed a new law called the Icelandic Modern Media Initiative (IMMI), report Richard Gizbert and Meenakshi Ravi of Al Jazeera. The proposed law has generated interest amongst journalists, civil rights organizations and media all over the world. The IMMI aims to bring together some of the most progressive media laws from all over the world to create one holistic law that will position Iceland at the forefront to protect journalists, whistle blowers and their sources from...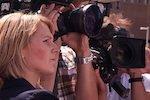 Jane Duncan - The recent controversy about an e.tv story featuring two criminals who threatened robbery and violence during the 2010 World Cup, has raised once again the controversial issue of whether journalists should have a right to protect their confidential sources of information. The journalists responsible for the story have been issued with subpoenas in terms of Section 205 of the Criminal Procedures Act. For many years, media freedom advocates have argued for an amendment to this provision...
What would make you start a revolution - living under a dictatorship, having your freedom of expression threatened, slavery, hunger, corporate hegemony? This clip provides some interesting viewpoints making the case for and against revolutions. "The possibility that it might succeed," is Canadian novelist, Margaret Attwood's whimsical response to the question. "Revolutions betray themselves and eat their own children," says Oxford Professor, Stein Ringen in his...
Colette Francis - The army is to be deployed in hot spots across South Africa to prevent an outbreak of political violence ahead of this year's elections, says Minister of Defence Charles Nqqakula. This in the wake of a spate of attacks in Kwazulu-Natal (KZN) that has seen tensions between Mangosuthu Buthelezi's Inkatha Freedom Party (IFP) and the ruling ANC resurface. On Sunday a stand-off between the IFP and ANC became so tense that the army was called in to support hundreds of police officers...