Financial Crisis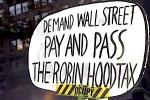 The American Congress is set have a congressional briefing in March next year on a proposed "Robin Hood Tax", which is essentially a tax of less than one-half of 1% on Wall Street transactions -- the goal being to generate revenue from Wall Street speculation rather than cut spending on social programs. Jessica Desvarieux of the Real News Network discusses the impact of the prospective tax with former employee of Goldman Sachs, Wally Turbeville. According to Turbeville, the tax...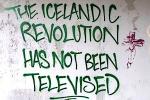 Matthew Deaves - Over the last decade Iceland, more than any other country, has been held up as a model of how to do things right. Pre-crash Iceland was championed by the Right as a shining example of the benefits of liberalized finance. After the financial crisis of 2008 proved them disastrously wrong Iceland was again touted as an example to emulate, this time by the Left. It was lauded as the country that had not taken the crash lying down. According to this narrative, Icelanders had with righteous fury...

The American city of Detroit has filed for bankruptcy. Thousands of public workers are now fighting to protect their pensions and medical benefits as the city threatens massive cuts to overcome an estimated $18 billion in debt. Detroit's bankruptcy "is an example of a failed economic system," says economist Richard Wolff, professor emeritus of economics at University of Massachusetts. "There are so many other cities in Detroit's situation, that if the courts decide...

People are talking a lot about inequality these days. It continues to grow within and between countries. The world's total wealth has been estimated at US$223 trillion. The richest one percent has accumulated 43% of this wealth. Simultaneously, there is a growing gap between rich and poor countries. Two hundred years ago rich countries were only three times richer than poor countries. Today they are about 80 times richer. Much of this can be attributed to the unfair rules of the global...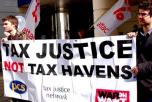 Steven Hsieh - A massive trove of leaked documents reveals the names of thousands of individuals and companies abusing offshore accounts to evade taxes and hide shady business deals, according to a report released Tuesday (2 April 2013). The International Consortium of Investigative Journalists (ICIJ) spent more than a year sifting through 2.5 million files, connection cash transfers between companies and individuals to "illustrate how offshore financial secrecy has spread aggressively around the...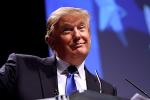 Lynn Parramore - It will hardly come as a surprise that the rich got richer in 2013. Didn't happen to you, did it? The combined wealth of the world's billionaires hit an all-time high of 5.4 trillion, up from 4.6 trillion in 2012. The Forbes list of billionaires is brimming over with oligarchs, monopolists, thugs, miscreants, and hustlers. Not to mention right-wingers, narcissists, and parasitic predators. The only thing missing is the king of Mexian drug lords, Joaquin "El Chapo" Guzman,...