Keyword: India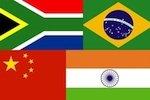 Leonard Gentle - Quietly, but inexorably, the world is changing. In the past three months a number of events have occurred, which, in and of themselves may go nowhere, but indicate the emergence of tectonic shifts that will change the world as we have known it for much of the 20th century. These changes may not necessarily be for everyone's good, they may even portend more frightening developments, but if we don't know about them we'll only experience their effects like the...
Jayati Ghosh, economist from India's Nehru University in New Delhi and author of the book After Crisis, says India's economic growth is no miracle. India is often compared to China for its rapid economic growth, but Ghosh argues that the two countries are very different. China has better economic growth and poverty reduction indicators. It also has a completely different institutional system with massive state control over finance, which enables the state to manipulate the nature of the...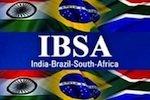 Saliem Fakir - They go by different names: IBSA (India, Brazil and South Africa), BRIC (Brazil, Russia, India, and China) and BASIC (Brazil, South Africa, India and China). These formations all amount to more or less the same thing: the new "emerging economies" seeking to redefine relations between themselves and the rest of the world. They are widely seen as new symbols of power in the global arena. The shaping of the alliances between these powerful new emerging economies raises...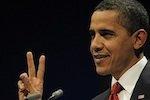 William Pfaff - The meeting on nuclear security convoked by Barack Obama this week was meant to prevent nuclear proliferation. This is a worthy cause, but -- while I am writing before the meeting closes -- I would assume that it will at best produce empty promises, as the meeting itself is fatally flawed. Its conceptual basis is that the United States is a disinterested world leader, calling on others to do what is self-evidently in the general interest. This is not true. The underlying incitement to...
Richard Pithouse - After Cape Town Mayor Dan Plato was slapped in Blikkiesdorp, the police have warned politicians not to enter the area without police backup. Blikkiesdorp is a government built shack settlement on the barren sands of Delft, outside of Cape Town. With rows of tin shacks, razor wire fencing, invasive lighting and armoured vehicles at the gated entrance, it looks like a concentration camp. To his credit the local police chief describes Blikkiesdorp as a 'housing time-bomb' close to...
Discussing language, politics and the role of the media in information dissemination at the Commonwealth Club in California earlier this month, Noam Chomsky also makes some interesting observations about nuclear powers, including Pakistan, which this week has been under siege of violence. Newspapers vs. the Internet Responding to the following question, Chomsky reflects on the role of newspapers and journalism in modern day society as well as access to information. In light of the...