Keyword: income inequality
Charlene Houston - It is winter in South Africa and this means it is also bargaining time for union leaders and employers. Strikes and deadlocks at bargaining councils have been dominating news headlines in recent weeks. Agreements between employers and workers have been reached in the metal and steel industry, petroleum sector and most recently with the 200,000 gold miners that also went on strike. Not all strikes and negotiations have ended. At the time of writing, union representatives of...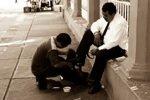 Francine Mestrum - Since the international organisations put poverty on the political agenda in the 1990s, little has been heard about inequality. This is quite amazing, since it was the income gap between rich and poor countries that gave rise to the development project after the Second World War. The first UN resolutions on development do not mention poverty, but they do refer to the huge inequalities between developed and under-developed countries. With the new poverty agenda of the World Bank and the human...