Keyword: Israel
The 6th annual Israeli Apartheid Week (IAW), from 1-7 March 2010, is being marked in 40 cities around the world this week. The clip above features journalist John Elmer and South Africa's Naeem Jeenah, Director of the Afro-Middle East Center, talking about the BDS (boycott, divestments, sanctions) campaign at a Toronto event on 01 March 2010. The IAW is largely being observed via university based activities and lectures throughout the world, however, the South African chapter also...
Israeli Defense Minister Ehud Barak warns of apartheid if Israel does not achieve peace with the Palestinians. But Israeli analysts argue that a South African style apartheid state has already emerged due to Israel's prolonged occupation of Palestinian territories. Veteran Israeli journalist, David Marchaelis says, "Ehud Barak wanted to scare the public and make the right wing Zionist Party think that they have to know that they are entering into a binational situation with no Jewish...
Israeli repression against human rights activists has increased since Palestinian civil society started pushing for the adoption of the Goldstone Report, the Real News Network reports. It is believed that the repression is planned. Night raids, kidnappings and arrests have led to the detention of many prominent human rights activists in recent months. Israel currently holds 7,122 Palestinian political prisoners in detention. Since its occupation of the West bank in 1967, Israel has set up...
Gideon Levy, prominent Israeli journalist who writes for the daily newspaper, Ha'aretz, talks to the Real News Network about Israel's addiction to its occupation of Palestine. Levy says: "I think that Israel needs an adult who will save it from its own addiction to the occupation. It needs a guide who would push or lead or any other way to take us out from the impossible situation that we are stuck in. And therefore I think that this balance of power, this really twisted relationship...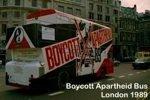 Ali Abunimah - Anyone who rejects the two-state solution, won't bring a one-state solution. They will instead bring one war, not one state. A bloody war with no end. (Israeli President Shimon Peres, 7 November 2009) One of the most commonly voiced objections to a one-state solution for Palestine/Israel stems from the accurate observation that the vast majority of Israeli Jews reject it, and fear being "swamped" by a Palestinian majority. Across the political spectrum, Israeli Jews insist on...
Discussing language, politics and the role of the media in information dissemination at the Commonwealth Club in California earlier this month, Noam Chomsky also makes some interesting observations about nuclear powers, including Pakistan, which this week has been under siege of violence. Newspapers vs. the Internet Responding to the following question, Chomsky reflects on the role of newspapers and journalism in modern day society as well as access to information. In light of the...